Tips & Tricks for Recording Audio Narration | The Rapid E-Learning Blog
Tips & Tricks for Recording Audio Narration | The Rapid E-Learning Blog: Are you looking for tips on how to record audio narration? Check out this post and the weekly challenge to learn more about how to record audio narration.
Another great link and Audacity Addon If you use Audacity, you HAVE to get this AddOn! https://theaudacitytopodcast.com/chriss-dynamic-compressor-plugin-for-audacity/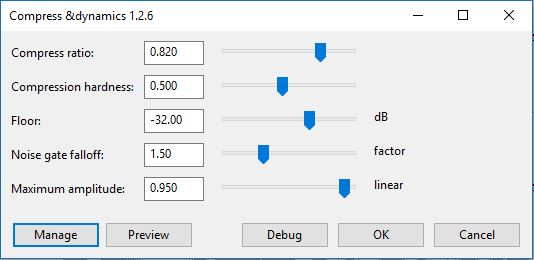 There is a great video located on the Chris's Dynamic Compressor download website. They explain the greatness of this plugin and all its functions and after trying it, I completely agree.  The settings shown above work great for me, but I did have to change to this after getting the Audio Interface. So, I highly suggest playing with these settings until you get the results you are looking for. Remember "UNDO" is your friend. Good news is, like most add-ons, your last settings stay until changed. However, use the "Manage" button and save your settings.
Here is my tip and please if anyone knows a better way or why this is wrong, please leave a comment. I read and heard so many different ways to master your track, but so far this is the best order for me.
Before starting these effects, learn from me, copy the track or file, I usually just copy the track and save the file. Either way, make sure you have a raw file to go back to! That alone will make you love me!
1-Noise Reduction - Note: Spend a lot of time on getting your settings right, I still fight this!
2-Equalization
3-Normalize
4-Compression
5-Measure Contrast (remember reading for next step)
6-Amplify to achieve -22 dBa
7-Analyze for ACX Check < Link to Addon
8-If ACX Check shows Peak Level to high use:
- Limiter Soft/Hard Set at -3
I can spend a day on this page and will soon, but I found that most of the settings suggested for each of these effects need to be tweaked according to your specific system and environment. However, we all need starting points and I will show you the settings I use soon.
Also, note that most of these steps can be applied by the "Chain" function. More on that later too